Aromatherapy master, multidisciplinary healer Michelle Roques-O'Neil banishes a deep-seated New Year belief, and passes on great tips on how to start the new year with a spring in your step:
1. It's a New Year! It's the middle of winter, nature is hibernating and contrary to popular (marketeer-driven) opinions this is definitely NOT a time for extreme detoxes. What your body needs is nurture; to take it slow and become more grounded, sleep more, eat warming soups, read nourishing and inspiring words and take lots of nourishing restorative baths laced with essence like Lavender, Rose and Jasmine to calm, strengthen and nourish our internal being.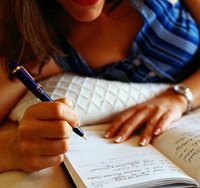 2. Spend some time writing a journal, releasing negative feelings, beliefs and fears: these are activated by tiredness, specifically depleted kidney energy. Expressing these thoughts on paper is a great way to detoxify the mind; which in turn activates inspirational brain activity enabling you to dream big. As a rule of thumb, try to write three pages at each sitting – look out for repeated themes, they are a clue to something that needs to be cleared or expressed.
3. People often sacrifice their passion to become effective and responsible and then wonder why they feel flat, depressed and low. A

lack of inspiration & play restricts creativity and drains vitality. Try to engage in pursuits that feed your passion whether it's dancing, painting, cooking, listening to some inspired words – bathing and rubbing delicious unguents into your body that connect you to your sensuality. All of these pursuits are ways to nurture and find yourself by taking the focus off having to "deliver" all of the time.
4. We are so conditioned to take action at any cost, with work emails coming to your phone and through the Facebook, Twitter, Instagram world. We tend to be on call 24/7 all to the detriment of diet, sleep, and our personal lives. How can you understand what you fully need when there is so little time to be reflective? You can change this; how you elect to use your energy is your choice, so start choosing to take a little time each day to meditate or just reflect quietly on where you are and to listen to your body.
5. Look for essential oils of of Naiouli or Basil in the products you use, they clear your mind and allow you to make space in your head to think. I have harnessed these oils in the Therapie Restore Aura Spray & Boost bodywash.
Essential oil to watch for 2013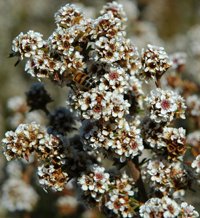 Fragonia is one of a new breed of essential oils emerging from the new world. It's a member of the tea tree family, but unlike tea tree it has a much more delicate floral note. Fragonia oil helps to express and release blocked emotions and create a feeling of harmony. I use it in response to stress, something I find a lot of people are struggling with, often fueled by uncertainty and fear – it's a key part to the effectiveness of the Aura Spray and Equilibrium Bath Oil.
It's a multidimensional oil, very cleansing and antiseptic. Fragonia strengthens and opens the lungs – related to hindering self expression, feelings of sadness and grief when blocked – It reduces anxiety and evokes a sense of calm. A lovely helping hand when facing the challenges of a new year.
michelle roques-o'neil