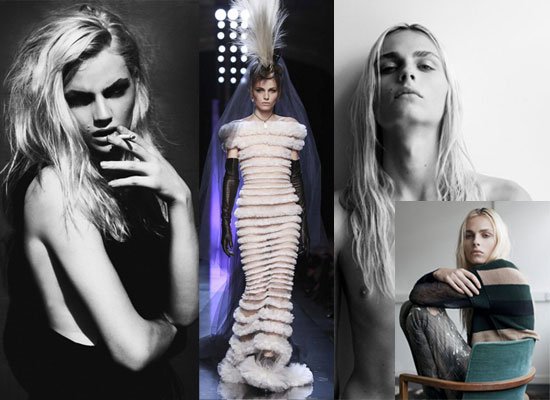 This young man has been causing a stir in the fashion world recently…oh and did we mention he is absolutely beautiful? Serbian born Pejic has made a global name for himself modeling womenswear for the Jean Paul Gaultier Couture show (in that wedding dress) at Paris Fashion Week and most recently for Vivienne Westwood at our very own London Fashion Week. Currently he is also the new face of Marc by Marc Jacobs' SS campaign… model of the moment or what?
19 year old Andrej fits in perfectly amongst the other female models at the fashion shows; standing over 6ft and carrying an ethereal beauty with his thin frame, platinum blond hair, full pouting lips and gorgeously pronounced cheekbones – you would not pick him out in a million years as a man. He is highlighting the beginning of a modern phase of androgyny on the catwalks. The trans-gender model Lea T is also making headlines as the current face of Givenchy and Kate Moss's co-star on the latest cover of Love magazine. nadine bourne
So what do you think?