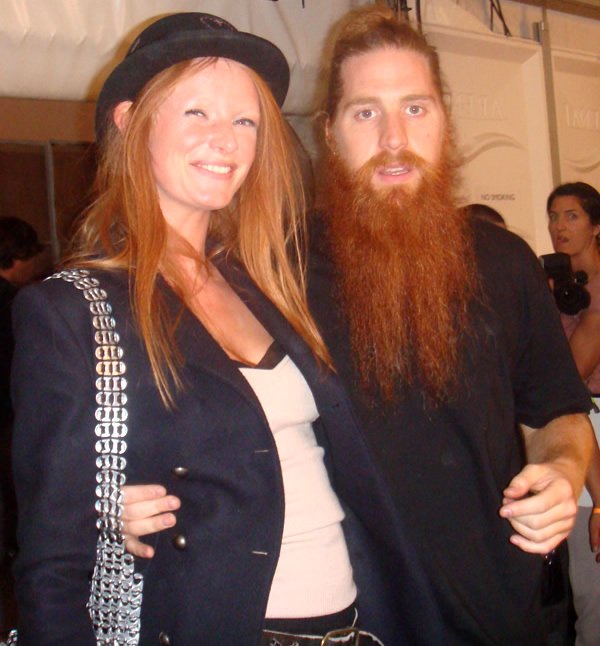 I have always wanted to go inside the ghostly shell of the Battersea Power Station and thanks to Matthew my wish was his command. His was the first ever show to be held in this location, the marquee was slap bang in the middle of its eerie skeleton. As I made my way backstage, I looked towards the windowed backdrop of the catwalk which framed the majestic brick walls of this upside down table (as my little cousins call it) and breathed a sigh, for I wish I could have been walking in this show.
Greeting me backstage was the fabulous Cult Beauty nail expert Andrea Fulerton. Andrea is on the cusp of launching her A-MA-ZING eponymous range that puts professional tools into the mainstream. I have been longing for these prep tools to become readily available, you just don't get the same perfectly polished effect with Boots own brand, they do not have the professional acumen to address our nails' needs. Andrea will be selling online and in Superdrug. More on that when she launches next week.
For Matthew's shipwrecked show, Andrea mixed 2 coloured varnishes together – "sand" and a matt "mother of pearl". This colour, named after Matthew, will be available in March 2011. To top it off, an overcoat called Gemstone which is like goldflake but iridescent, was applied.
James from L'Oreal was in charge of zee maquillage. The look was rather plain and not too perfect, I guess that's a trend for next summer, some guys love this look as there are no surprises when they wake up next to you. So it was all beautiful luminous skin, a light foundation but enough to mask some of the models' terrible skin. A nude, sandy, dewy eye from L'Oreal's Studio Secrets was brushed over and sweeped out. No mascara (AGAIN) and no brow definition. Colour peel on lip and cheek. I asked James what advice he gives to models with problem skin, he tells them to bring their own cleanser and moisturiser so as not to bomb the skin with so many different potions.
For the hair, my Ginger God, the light of my life, the heaven-sent Duffy created a "finished hair do that's broken". Brushes were left in their kit-bag, it was all about the fingers (Oh dear God how I wish he could have done a demonstration on me). He spritzed oil and water through the front to make it look like greasy hair and then blow-dried it, stuck some clips over tissue paper to hold the style in place and that was it. The girls have had an easy ride so far this season. I managed to sneak in a question about how Duffy keeps his beard soo soft, so for all you ladies with hairy men this is a small info gift I am happy to share with you…Keihl's Body Wash. He smells almost as good as his overall divinely magic demeanor.
The clothes were gorgeous. I fell head over my Beatrix Ong heels in love with a sequined and peacock feathered skirt and the sexy but subtle corsets. Beautiful embellished skirts followed by knit dresses with flowing fringing swished down the catwalk. Matthew's take on the high-waisted wide-leg, sailor-esque trousers looked elegant and modern. Charming silk scarves with beautiful dip-dyed fringing adorned the elegant necks of the models. The show was brought to a finale with long, parachute dresses, cleverly roped in the most flattering of places as if to signal hope. It was a skilful journey through a plethora of textures. My compliments to the chef. Olivia Inge