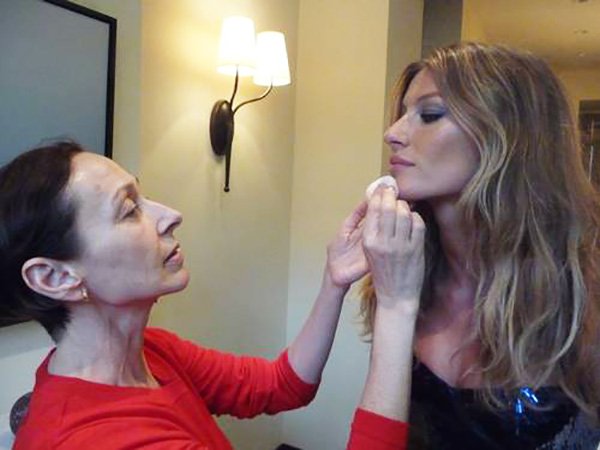 We've fallen for RMS Beauty because, unlike other mineral cosmetics brands, it's not powdered, so doesn't dry out the skin or sit in wrinkles. Instead the products use organic natural oils, which work beautifully on the skin, nourishing it as well as delivering rich, lasting colour. This is the only mineral range rated by professional make-up artists and used by the Victoria Secret A-team! We grilled founder Rose-Marie Swift on her eco-credentials and what makes RMS different.
Tell us what made you develop the RMS range?
When I was in my early 20's in Canada I did a little modeling and learned to make up my own face. A friend suggested me to make-up on a model for a magazine cover which I gladly did, I was hooked! I have now been working as a pro make-up artist worldwide for 25 years, beautifying the A-list. Through the years I have worked with almost every product (as well as skin type) and have learned what works and what doesn't, becoming totally obsessed with skin – not just the cosmetics themselves but how the skin looked and reacted to these cosmetics.
My background as an advocate for cleaner cosmetics came when my own health deteriorated years ago and through my research I realised many of the chemicals that were in my body were also found throughout the beauty industry. I started my site Beautytruth.com in 2004 exposing some of the more serious chemicals in our cosmetics and became well versed on what chemicals a put in products and the ramifications they can have long term. The site created a lot of press for me with people constantly asking: what shall we use? I started studying ingredients labels in depth and was more and more disappointed at what these so-called natural lines thought were clean ingredients. I had no choice but to start my own line of organic make-up and I used the base of my ingredients from the raw food concept of not killing the ingredients with heat and chemicals.
My mission is to educate people to be more aware of not just what they put on their skin but also what they put in their bodies. Your skin is a 'mirror to your gut' so whatever is being put into the body is reflected in the skin. Eat healthy, eat wisely, and never underestimate the power of clean water, fruits and vegetables. Make-up should enhance that beauty not be used to cover it up.
What makes RMS different to other mineral makeup ranges?
First of all we are not a powdered mineral line – we are an organic cream color line. We have taken the concept of moisturising skincare and have added mineral color. The products are both moisturising and add flattering color to the face. Powdered mineral lines on their own dry out the skin and this causes premature aging in the long term. They have also been proven to be dangerous when inhaled. We use the best minerals available – they are in their raw state, totally free of synthetic silicon, nano-particles and paraben coatings of any kind.
What are the main ingredients in the products and why did you choose to use them?
My line includes many organic, raw, food-grade ingredients, my favorite being organic, Virgin Coconut Oil (it is a natural anti-oxidant, anti-bacterial, anti-fungal ingredient and even acne-prone skin loves it due to its high Lauric Acid content). Jojoba oil is the closest in composition to the natural oils found in human skin and is extremely moisturising. Cocoa Butter, Castor Seed Oil, Argan Oil (high in Vitamin E), Bee Propolis (an amazing natural antibiotic), Vitamin E that is non-GMO (not genetically modified). I have a thorough knowledge of their origin, manufacturing process, right through to development. My products are concentrated (they contain no water) so last longer than most other beauty products. They deliver a beautiful, natural, glow to the skin, as well as a healing effect, due to the natural enzymes and anti-oxidants, which heat and chemical manipulation usually kill. Over long term they are anti-aging for the skin and are completely without all the synthetics (vitamins) and derivatives that all the other natural/organic lines are adding.
What are the most alarming things you've discovered through your research?
The most heartbreaking thing for me is that I really believe the cosmetic companies have no conscience. They are exposing women to so many unhealthy ingredients and long term health problems through these chemicals without providing better choices.
Which celebrities love RMS? Has it won any industry awards?
I have many celebrities that use my line and some of the names I can mention are Gisele, Miranda Kerr, Karolina Kurkova, Zoe Saldano & Michelle Monahan to name a few. Marissa Feinberg who is the Co-Founder of Green Spaces Executive Director, Green Leaders Global has nominated me in one of the categories. RMS Beauty also won the "Beauty with a Conscience Award" Editors Pick for Best Eye Shadow from Natural Solutions Magazine. Make-up artists are also fans of RMS: Christy Coleman, Wendy Rowe and Zoe Saldano's make-up artist in LA and Vera Steimberg.