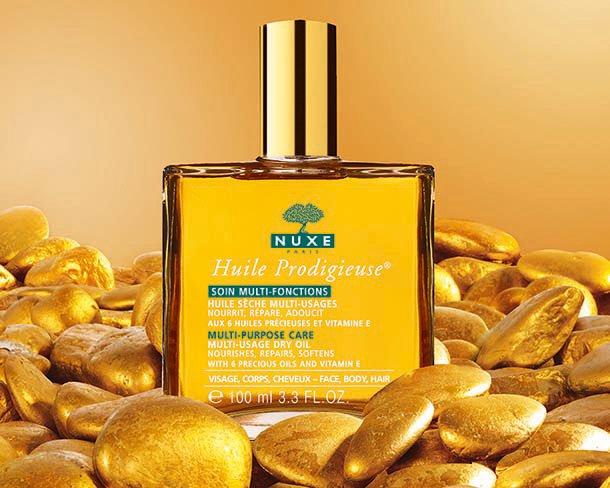 As of today, my search for the perfect light serum is complete. I have been testing an old favorite of make up artists – Nuxe's Creme Fraiche Cream and I can honestly say this cream ROCKS.
The smell is divine, like a summer garden after rain. It's easily absorbed making it perfect for our highly anticipated hot summer, as I can't stand creams that leave a grimy residue on my skin that only worsens in hot weather. The packaging isn't fussy, the dispenser is well designed in ita simplicity and has excellent pump action. A little twist of the nozzle and away you go. You don't need much, a couple of squirts is all it takes.
The serum contains 8 plant milks with anti-fatigue benefits and acts to recreate a 'moisture reserve' by drawing up and diffusing water throughout the skin. With the help of Pomegranate, 5 plant saps, Macademia oil and spring wild-oats, your skin's barriers are restored and refreshed.
Another favorite of mine from this brilliant range is the Huile Prodigieuse Or (gold). This is a multi-purpose dry oil containing 6 plant oils – borage, St Johnswort, sweet almond, camellia, hazelnut and macademia.
Many a time have I had this sweet-smelling oil lathered into my body on shoots, it is a perfect tool for illuminating skin due to the small iridescent golden particles. Goldeneye eat your heart out!! It can also be used as a treatment for hair; I spritz it on before washing and after an intense session of over-styling. It's as good for your hair as a bottle of chilled rosé on a summer's day is for the soul.
Nuxe is all about the wonderful effects plants have on the skin. It has remained a family business spearheaded by Aliza Jabes who bought the company from her father, a research pharmacist, 20 years ago. They are an independent company, with independent labs. The products are tested on children over 3 years of age (who said child labor was a bad thing?) and their sleb fans include Monica Bellucci, Vanessa Paradis and Eva Herzigova.