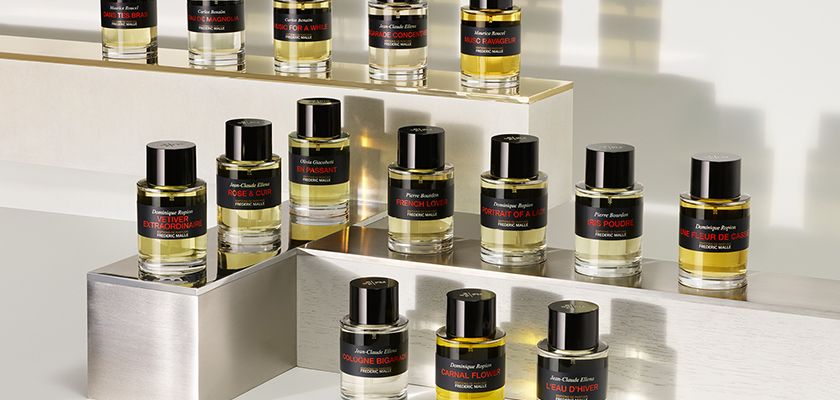 FRÉDÉRIC MALLE
Grandson to Serge Heftler-Louche, a friend of Christian Dior and the founder of M. Dior's fragrances, Frédéric Malle grew up with the concept that scent is the ultimate luxury. A 'perfume publisher', the founder collaborates with some of the world's most esteemed perfumers to elevate and celebrate the art of fragrance. With profound knowledge of every step of perfumery – from creation to composition, – Frédéric Malle perfume is evocative, timeless, and considered the 'classics' of the future.

DISCOVER FRÉDÉRIC MALLE
A product of its eponymous founder's determination to pay homage to perfumery, Frédéric Malle perfumes fuse unique notes to marry modernism and tradition. Collaboratively working with renowned noses across the industry, the brand dreams up a collection of aromas that are personal, creative, and enhance a sensory experience.
THE PERFUME PUBLISHER
Like an editor working with authors, Frédéric Malle describes himself as the perfume publisher. Helping fellow fragrance designers from across the globe to bring out their best selves, he shares his knowledge, language of formulation, and raw materials to create art with aromas. Discovering unexplored olfactory territories, Frédéric Malle'sfragrancescan only be described as the classic of the future.
DISCOVER EDITIONS DE PARFUMS
Creating a library of fragrant authors, Frédéric Malle's Editions de Parfums include scents by distinguished noses including OliviaGiacobetti, Bruno Jovanovic, and Fanny Bal (to name a few). Seeing the world of perfumery as an art, the brand celebrates each designer's taste and sense, turning its back on conventional practices – putting freedom and creativity at the forefront of each fragrance.