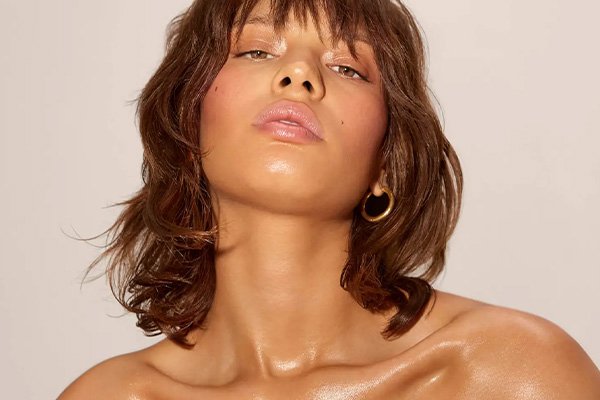 Fake it 'till you make it – that's our motto when it comes to self tanning. Offering sun-kissed skin (sans any sun), these at home solutions are quicker, safer and a more efficient way to achieve a golden glow – home or away.  
Whether you're new to fake tan or an avid applicator, our ultimate tanning guide uncovers fool-proof practices to help you achieve a streak-free shine – even when it's cold outside. Read on to discover how fake tan works, how long it lasts, and so much more.  
HOW DOES FAKE TAN WORK
Ever wondered how your fake tan works? Us too. But the science behind it is actually pretty simple. Tanners are powered by a colouring agent called dihydroxyacetone (otherwise known as DHA), which work with the amino acids in your skin to react and darken dead skin cells on the surface of your body. So, the more DHA that a self tanner has in it, the faster you'll achieve a darker tan. 
HOW TO USE FAKE TAN
1. Find the self tanner for you: Before any application you should decide on which fake tan is best for you and your situation. For example, if this is your first time tanning (and you're in no rush for a deep colour), you may want to opt for a gradual formula that provides a subtle and natural finish. Or, if last minute plans have sprung up on you, and you have no time to spare, instant solutions are the way to go. Other things to consider include which type of fake tan do you want to use (there's foams, mousses, liquids, milks, drops and more), the intensity of tan you desire and whether you want to wash it off or not. 
2. Shower and exfoliate: The secret to achieving an even, long-lasting fake tan starts before even opening the bottle. It's all about the prep work. It's essential to exfoliate at least 24 hours before applying any self tanning product. Why? Because not only will this banish dead skin, but it also creates a smooth canvas for your chosen tanning solution. As you exfoliate with a scrub and/or an exfoliating applicator, ensure to pay extra attention to those typically dry areas (we're talking about your feet, ankles, elbows and knees). For best results, choose a body scrub that fuses physical and chemical exfoliators.  
SHOP ALL BODY EXFOLIATORS AND SCRUBS >>> 
3. Moisturise key areas: Fake tan is renowned for clinging to dry skin, so to be extra cautious its crucial to moisturise after your shower. But be sure to do this at least two to three hours before applying your fake tan as you want the formula to stick. Just like your exfoliating step, give some extra TLC to those dehydrated areas. 
SHOP ALL BODY MOISTURISERS >>> 
4. Apply fake tan: First things first, always use a tanning mitt. As your palms are prone to turning orange, it's best to keep them covered at all times. For a fool-proof application, using your mitt, apply the tan to your body, starting from your feet up. Starting with your shins, apply the self tan in long, circular strokes – adding more product as required. To avoid blotches, buff away any leftover tan by brushing over your knees, wrists, elbows, feet, and ankles with a very slightly damp paper towel, as this will pick up excess colour and eliminate unevenness. 
5. Wash your hands: Even if you used a mitt or a glove to apply your tanner, washing your hands will ensure that your palms, fingers and knuckles don't turn orange. This is the safest way to prevent it from occurring. Use a hand soap and warm water to wash them thoroughly. 
6. Let it dry and develop: To avoid undoing all your hard work, it's vital to let the tan dry and develop. Do not get dressed or get into the shower until all areas of your body are dry (and we mean dry, not damp). Then, when heading back into the shower avoid shaving and scrubs for as long as you want to maintain your tan – you don't want it all going down the drain! 
7. Maintain your tan: Now you've achieved that golden glow, the trick is to keep it going for as long as you like. The best way to maintain your bronzed body is to keep moisturising and using sunscreen. 

HOW LONG DOES FAKE TAN LAST
Finding out how long fake tan lasts, is like asking how long a piece of string is… there is no set answer. However, there are a few practices you can follow to make it last that little bit longer. Typically, a good self tanner can last anywhere between three to seven days. Having said this, with the right prep and after care (we're talking about pre-exfoliation and moisturising, of course) your colour can continue to shine for up to ten days (if not more).  
HOW TO REMOVE FAKE TAN
Bidding farewell to fake tan doesn't have to be as challenging as you think. When your tan does eventually start to fade – or it's time for you to repeat the process all over again – there are many different ways to get back your clean slate. Read on to discover the top three, skin-friendly techniques on how to remove your fake tan.  
Using A Tan Remover
The most obvious – and arguably easiest – solution would be to use a tan remover. Doing exactly what they say on the tin, they save you from orange hues and those dreaded patches. From mousses to polishing gloves, there's options for every body and skin type.  
Bathe In Oil
When it comes to tan removal, oils are the way to go. Breaking down the tan's DHA, they help fade and remove the colour from your skin. But why not make the task more relaxing with a warm bath? Simply add bath oils or baby oil to your water and soak the hue away. To supercharge your soak, you can also rub body oil into your skin and let it marinate up to an hour before bathing.  
Exfoliate In The Shower
If baths aren't your thing, don't worry – you can wash away your hue in the shower, too (phew). Once in the shower, take your exfoliating mitt or body scrub and exfoliate from head to toe. The key is to not overdo it, as although it's a great way to remove build-up, scrubbing too hard can lead to irritated skin. With that in mind, exfoliation is also the ideal follow-up once you've soaked in oil, as it breaks down the tan so you don't need to scrub as hard. 
SHOP ALL BODY SCRUBS & EXFOLIATORS >>>
TOP FAKE TAN TIPS YOU DIDN'T KNOW YOU NEEDED UNTIL NOW …
Remove hair 24 hours before self tanning:

While this is one of the most important fake tan tips, it's often overlooked. No matter your hair removal method, always ensure to shave, or wax at least 24 hours prior to applying your tan. This ensures your hair follicles have closed back up before adding the tint to your skin. Plus, it avoids speckles to boost an even finish, too. 

 

Avoid using deodorants and perfumes before and after fake

tanning:

When applying false tan, your skin should be completely clean and clear of other products. Deodorant and fragrances can create a sticky layer on the skin's surface which prevents the tan from adhering. What's more, they can also turn some fake tans green. So, our top tip would be to avoid them all together before tanning and while it develops.

 

Always use a tanning mitt:

The secret to a streak-free tan and stain free hands? Tanning mitts. The applicators allow you to evenly distribute and blend your formula with ease –while avoiding the dreaded orange fingers the next morning. 

 

Wash off your tan in cool water:

If you're using a wash-off tan, always opt to rinse off in cool water for the best results. After allowing your colour to develop, step into the shower and rinse until your water runs clear. Avoid using scrubs or body washes as this can also create streaks, or lead to fading.

 

Allow for your fake tan to fully dry:

While it may be tempting to get dressed while your skin is still damp, this could lead to those pesky patches you've been trying to avoid. And once your tan is dry, opt for loose clothing that won't rub against you.

 
BEST TANNING PRODUCTS RIGHT NOW