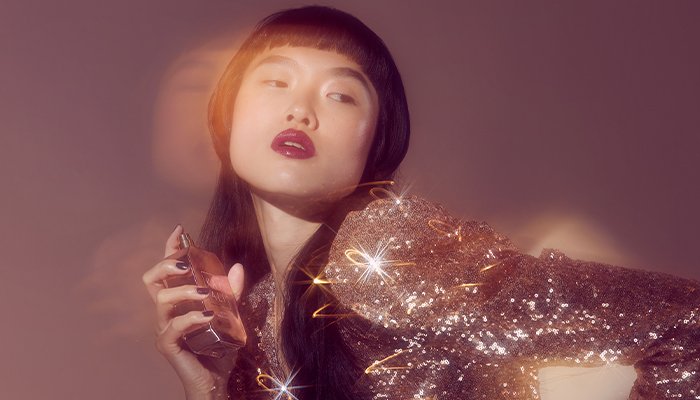 Your signature scent is a powerful thing – it evokes memories, engages the senses and reveals a lot about your personality. Therefore, finding your fragrance isn't something that should be taken lightly. With that in mind, we've enlisted the help of our Cult Concierge expert, Connor, to answer your most–asked questions. So, without further ado, let us introduce you to our ultimate fragrance guide.  
WHAT IS A FRAGRANCE FAMILY
In short, fragrance families are a way to categorise scents into olfactory groups. They are divided into one of the four families, according to their notes and ingredients — making it easier for you to find a perfume that suits you. Read on to figure out the different classifications and what they mean:
AMBER
Renowned for their smooth and sensual scents, Amber fragrances fuse herbs, spices and powdery resin notes to create a rich, exotic aroma. Long-lasting and full-bodied, all it takes is one spritz to experience the warmth of the family.  
Primary notes: Orange blossom, vanilla, spices, tobacco, and amber 
Smells like: Herbs and spices   
FLORALS
The most common of the four families, Floral fragrances are a fusion of soft and decadent notes that complement one another. Powered by essential oils, extracted from flowers, these bouquets blossom all year long and are reminiscent of freshly cut roses, lilies, peonies and other prized blooms.
Primary notes: Iris, jasmine, rose, and lily of the valley 
Smells like: Fresh cut flowers  
FRESH
Defined by their balance of zingy and aromatic scents, Fresh fragrances are commonly a combination of citrus, water and green aromas. Typically underlined with woody notes, offerings conjure clean air, rolling hills and stunning scenery. 
Primary notes: Citrus, white flowers, bergamot 
Smells like: Herbs, citrus, clean and oceanic  
WOODY
Characterised by their earthy undertones, Woody scents are typically rich and seductive. Derived from wood materials such as trees, roots, resins, moss and some leaves and grasses, this fragrant family has a warming nature, evoking memories of cold nights spent by the log fire.  
Primary notes: Oak, sandalwood, rosewood, and cedarwood 
Smells like: Moss, warmth and wood  
WHAT ARE PERFUME NOTES
Have you ever noticed that your scent starts to change after some time on your skin? Well, that is the different fragrant notes coming through. Every perfume is made up of different notes categorised into top, heart and base notes.  
The top notes are what you smell first and are typically lighter and more refreshing. As they are the opening notes, they're also the first to evaporate. Then, you have the heart notes. These are commonly the sweeter smells within the scent and can generally last up to an hour on the skin. And, last but by no means least are the base notes – these are the richest of notes with a woody undertone. Lasting the longest, it's these aromas which stick to your skin and keep you smelling heavenly until the early hours of the morning.  
HOW TO FIND A PERFUME THAT SUITS YOU
While settling on your signature scent will typically come down to personal taste, following the six fragrance tips below can make adding to your perfume wardrobe a whole lot easier.  
Only try three scents at a time

: We know how tempting it is to spritz yourself with various fragrances when looking for your favourite one, but this actually makes finding the perfect fit much harder. Limiting your explorations to just three scents, allows you to take in the different notes while avoiding

olfactory overwhelm

. Your search will become more accurate and won't have your nose working overtime.  

 

Spray on your skin not on paper:

Perfumes smell differently on everyone, thanks to our unique skin chemistry. With that in mind, when smelling different fragrances, it's essential to try them out on your skin rather than the sampler paper provided as this won't give a true representation of how the scent will settle on

your

skin.

 

Be patient:

It's important to spend time smelling your perfume (we're talking hours, not minutes). Why? Because when you first spray your scent, you will only experience the top notes. These will linger for a while, but then will eventually develop into the heart and base notes that will last throughout the day. Simply, spitz your fragrance onto your skin, then make sure you smell it after a couple hours, before making any decisions. 

 

Apply to your pulse points

: Pulse points (we're talking temples, behind the ears, the side of your neck and your inner wrists) are essential when applying your perfume. These are the areas that emanate heat, allowing your scent to smell stronger.  

 

Spritz don't mist

: While it's tempting to mist your perfume all over your body before heading out the front door, it's less effective than you think. Perfumes need your skin and body heat to work properly. While misting covers a wider range, spritzing allows the scent to land on the skin and penetrate properly. 

 

Try a hair mist:

Double up on your scent game with a

hair mist

. Enhancing your smell throughout the day, the fragrance envelops your strands, keeping your aroma alive from head to toe (quite literally).

 
Now you've read our ultimate perfume guide, it's time to get spritzing and find your signature scent for the season, and beyond…