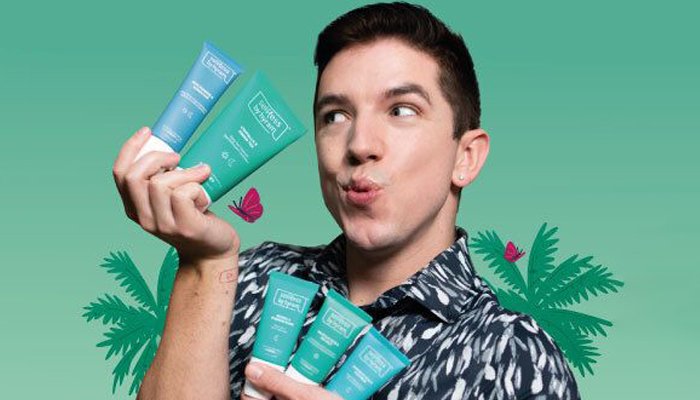 New and EXCLUSIVE to Cult Beauty, the effective, gentle and eco-conscious {skin care} range from our favourite sk-influencer, Hyram Yarbro, has arrived! Though we're not sure you'll need all that much convincing, here's three reasons to add this eagerly anticipated line to your basket ASAP…
1. It's the brainchild of the internet's favourite skin care fanatic
If you've been living under a social media-shaped rock for the past few years, maybe you've missed the rise (and rise!) of official Gen Z skin saviour Hyram (known to his followers as @skincarebyhyram, natch). Through informative and entertaining videos spanning TikTok, Youtube and everywhere in between, Hyram's no-nonsense, transparent approach to skin care has seen him amass more than 1 million loyal followers on Instagram — and now his very own skin care line. *Fan girls*
Created in collaboration with the ingredients-focused skin care experts over at {The INKEY List}, Selfless By Hyram combines everything that Hyram (and his channel) have always championed: great skin care at even better prices. And, of course, its all officially #HyramApproved…
2. Gentle and efficient formulas are at the heart of the range
Hyram's mantra? "Ingredients don't lie, b*tch!" So, of course, we weren't expecting anything less from his own line, which is packed with ingredients-focused formulas that look past the fluff and the filler to offer cold, hard results. Think: routine essentials ranging from a niacinamide-charged moisturiser to a retinol-powered serum — all carefully formulated to be kind to your skin while they work their magic.
First up, you'll find the Centella & Green Tea Hydrating Gel Cleanser, a pH-balanced formula that offers an impressively deep cleanse — without leaving your skin with that 'shrunk-in-the-wash' tightness you may have experienced with other cleansers. Glycerin and baltic black moss work together to retain the health of your skin's ever-important moisture barrier, while centella and green tea help to calm redness and irritation.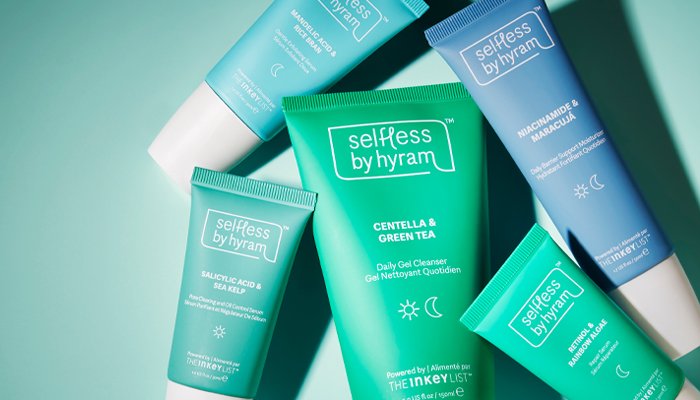 Next, there's three expertly tailored serums, each designed to target certain skin needs (oh how we love a considerate skin care brand!). Looking for a gentle exfoliation to unclog pores, smooth texture and ramp up the radiance? Let us introduce you to the Mandelic Acid and Rice Bran Gentle Exfoliating Serum. Want to balance overzealous oil production, without leaving your skin feeling dryer than the Sahara? The Salicylic Acid & Sea Kelp Pore Clearing & Oil Control Serum might just be the answer. And if reducing the appearance of fine lines, scarring or hyperpigmentation is top of your skin care agenda, the Retinol & Rainbow Algae Repair Serum will have your back.
Finally, because hydration is key in every self-respecting skin care fanatic's routine, there's the Niacinamide & Maracuja Daily Support Moisturizer. A quick-absorbing gel-cream that suits all skin types (yes, even you dry skinned beauties!), this silky-finish formula combines sebum-balancing niacinamide with skin-healing maracuja to help flood your complexion with moisture while also strengthening your skin barrier. So… what's going in your basket first?
3. Our co-founder and co-CEO is a huge fan
As true beauty magpies, Team Cult Beauty's quest to discover the most exciting new brands is relentless — and only the best of the best deserves a place on our virtual shelves. Luckily, our co-founder and co-CEO, Alexia Inge, has given Hyram her much-coveted seal of approval.
"One never knows what to expect when people famous for critiquing products bring out ranges of their own," she explains, "Have they learned from the mistakes of others, or are they just very good at pointing them out?
"Hyram has absolutely smashed it with 'Selfless', so much so that I think the range might be better named 'Thoughtful' (see, it's easy to critique 😉)! From partnering with super-formulator Mark Curry of The INKEY List to serious considerations for the packaging impact, this feels like a truly modern brand.
"The formulas are gossamer-light on your skin, with a blink and-they-absorb experience, and an ingredients list that checks all the needs of the conscious-but-demanding skin care lover. You get A LOT for your money with this range, I'm deeply impressed."