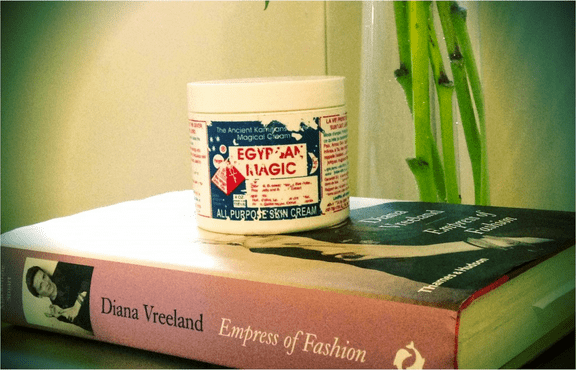 Please excuse the state of the pot… it's been in my possession for a while!
Egyptian Magic's All Purpose Skin Cream may look decidedly kitsch, but this little pot of wonder is far from a novelty. The adorably juvenile packaging and somewhat out-of-place philosophical sentiments ("life takes from the taker and gives to the giver" and "let your word be your bond") belie a genuine beauty gem that quickly addresses virtually every skin care concern.
With no harsh chemicals or preservatives, this all-natural balm is suitable for even sensitive skin types – perfect as an intensive moisturiser, split end nourisher and even as a facial cleanser when used with a muslin cloth. I use it every evening to gently take the day off – massaging it into skin (I give my face a little work out whilst dissolving the make-up and grime) before wiping away any excess using a hot (damp) face cloth. This process is repeated two or three times whilst I lightly exfoliate any dry patches – 'til I'm left with baby soft skin that feels comfortably clean and hydrated.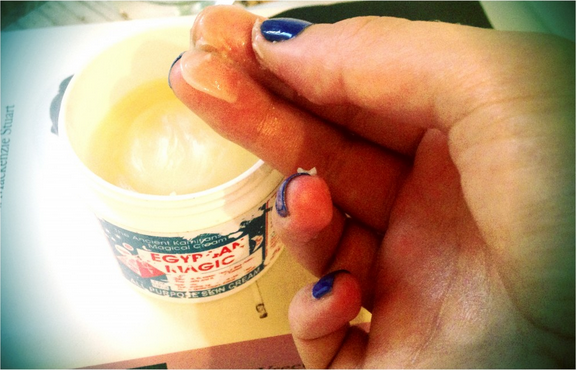 It's also brilliant for softening scaly heels, knees and elbows, as well as conditioning cuticles and taking the itch out of bites, burns and grazes. I decant some into a pot to pop in my handbag, for soothing chapped lips and delivering intensive nourishment to any dry patches.
It isn't called 'All Purpose Skin Cream' for no reason – it makes a super-cute addition to dressing tables, bedside cabinets or bathroom shelves and once you've discovered this "secret of the great sages", you'll wonder how your skin survived without it.
P.S. I've been in possession of this jar for around 4 months and despite daily use, have barely made a dent! So add 'economical' to its already extensive list of attributes.
Read about some other 'Lone Star Heroes' here >>