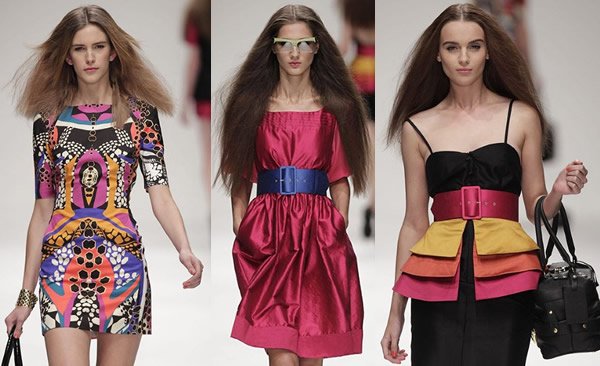 My London Fashion Week kicked off yesterday with a "minimal kasbah" show from Amy and Percy for PPQ. Fezz hats, cotton crepe and raw silk formed the fabrics while a fantastic palette of sea blues, burnt coppers, golds, plums and blacks mixed with a divine kaleidoscope print, by new kid on the block Sehr Ashraf, made up the bulk of the show. It was an elegant show with belted waists, knee length 50's inspired skirts and cute jump suits, sweetheart neck-lines and one shouldered mini dresses.
Amy and Percy nailed it with one of the main focuses of the Fashion Weeks – slebs in the front row! Bridgett Neillson rocked up in true diva form with sunglasses so dark, she had to lift them to see where she was going. She looks amazing at 47 years of age, the only surgery she's had is on her tits, her face doesn't even show signs of botox.
All shows last about 20 mins and if the collection sucks, in order to relinquish your sanity one can amuse oneself with 1) regarding the audience and their crazy garms 2.) study the models walks and moves. Some are spunky but most are rather dull these days. They look the same and they act the same…no personality. In my day we had real characters, but we also had a never ending supply of champagne, we could smoke, eat, gossip, be late and mainly have a laugh. These days its a catch-22 situation where the accent has shifted to the business side, sponsorship and driving sales, when this is the focus you loose the spontaneity and fun. But without that injection of money, the creative genius' have no platform.
So thank the Lord for hair dressers like Duffy. Duffy is cool. And ginger. I've known him since he assisted another wicked hair dresser called Tyler. He was then as he is now, super chilled, gentle to one's head, fantastic sense of humour and I want to marry him. I digress, this is not a dear diary entry.
So the hair was thick, dry, a 70's inspired Debbie Harry triangle (i.e flat roots, big bottom ends). Duffy used Fekkai Coiff Oceanique spray to get texture, he literally soaked the hair in it then blow-dried it out. He separated big sections and then backcombed. Back combing brings shivers to my spine, it is one of the most painful procedures to go through after the "croydon face lift ponytail". Lastly he sprayed it with Pantene Extra hold and brushed it all out. Et voila, thick, bouncy triangular hair.
The make up team was headed by Rachel Wood using Benefit Cosmetics. I thought the make up was charming and very do-able. The eyes were kohled but in a grey/black and gently blended paying more attention to the outer reaches. The cheeks were peachy and with a slight shine and the lips were dabbed in the middle with a rose gloss stain. All super easy looks to try at home. olivia inge