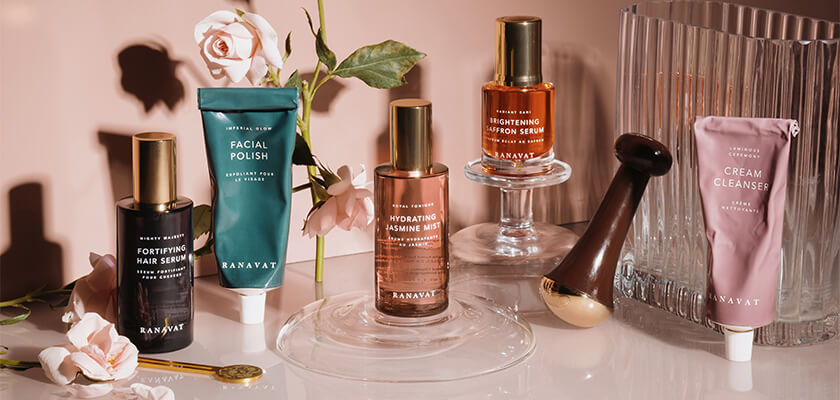 RANAVAT
Built on Ayurvedic principles (the concept that everything is made of three types of energy related to the basic biology of the body), RANAVAT is the innovative beauty brand founded by South Asian scientist-turned-entrepreneur Michelle Ranavat. With the help of an on-staff Ayurvedic doctor, the brand has created a luxurious range of expertly crafted beauty essentials steeped in traditional practices for an indulgent sensorial experience, designed to give you the escape you deserve.
DISCOVER RAVANAT
Expect to be whisked away to a zen state with RANAVAT's luxurious skin care, body care, hair care and facial tools. Formulating products that are steeped in potent botanical extracts and nourishing planet-based ingredients, the brand takes it's Ayurvedic principles into everything it creates. From the Lotus Cleansing Balm to the Hydrating Jasmine Mist, RANAVANT delivers impressive results for your complexion, limbs and more.
MEET MICHELLE RANAVAT
Having experienced severe postpartum hair loss after the birth of her child in 2016, Michelle Ravanat discovered the only thing that helped — Ayurvedic oil from India. Impressed by the results, Michelle delved deep into learning Ayruvedic principles, and with the help of her father and his pharmaceutical business, RANAVAT was born in 2017. The brand became the first South-Asian-founded Ayurvedic skin care brand to launch in the USA and has gone on to be a world renowned brand.
THE BESTSELLERS
Sourcing pure saffron is a pillar in RANAVAT's skin care heroes. Taking great pains to store it, the brand tests all of its saffron before it goes into its bestselling products, including the Radiant Rani Brightening Safron Serum. Infused with a potent blend of vitamin-rich superfoods and antioxidant-rich ashwagandha, this super serum works to illuminate, firm and improve the look of your skin tone — revealing a radiant looking glow. Another must have is the Eternal Reign Renewing Bakuchi Crème. Decadently rich, it quickly quenches thirsty skin, while visibly softening fine lines and promoting a supple luminous finish.