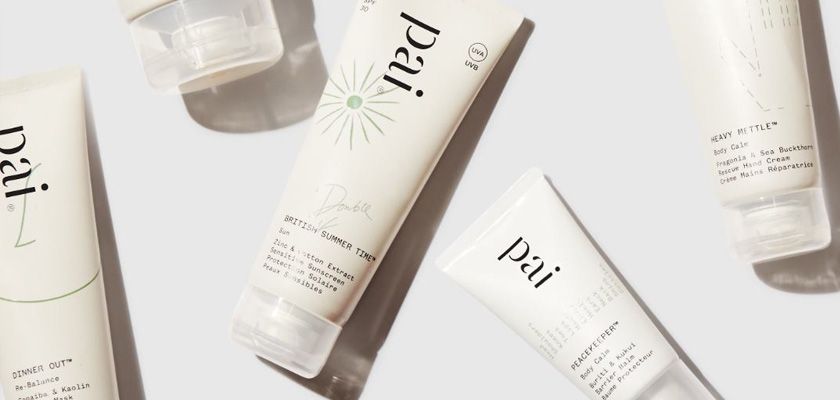 PAI SKINCARE
When Sarah Brown's complexion became irritated, hyper-sensitive and acne-prone out of the blue, she set out to create a skin care line that would let her take back control. Let down by countless products claiming to be 'hypoallergenic' and 'organic', she created Pai Skincare to nourish sensitive skin without irritating it. From cleansers and creams to oils and moisturisers, this potent line is just as luxurious as it is gentle, brimming with ingredients that soothe even the most distressed complexions.
DISCOVER PAI
THE FOUNDER'S STORY:
Pai Skincare's founder, Sarah Brown began her journey into the beauty sphere when she developed urticaria, out of the blue. Going from a usually calm complexion to dealing with hyper-sensitive and acne-prone skin was no easy task. It quickly became apparent that finding products that didn't contain irritable ingredients, was a whole new challenge. While there were many that claimed to be "hypoallergenic" and "organic", when looking at their ingredient lists, they were full of synthetics and irritants. Thus, Sarah took the matter into her own hands and created Pai Skincare – a brand people could trust and depend on. Powered by effective, organic ingredients and no-nonsense marketing, the label understands products are just one piece of the skin care puzzle.
PRODUCTS MADE BY PAI SKINCARE:
As one of the few beauty brands who formulate and manufacture its products itself, Pai Skincare creates all its skin care saviour in its very own London HQ. Impressive, we know. Understanding the importance of taking ownership of every step of the process (from the creating the concept to putting it in its customer's hands), the label doesn't compromise on quality. How, do we know? Well, not only does Pai Skincare source all its ingredients, but they also produce its packaging, meaning they can take accountability and constantly look for way to improve its B Corporation commitment.
PAI SKINCARE – A CERTIFIED B CORPORATION: B Corp certified, Pai Skincare is committed to ensuring its business is a force for good. A case in point? It conserves and minimises water by regularly assessing its microbial, chemical and mineral content, managing its sources and wastewater. Not to mention, 75% of Pai Skincare's saviours sold last year had a certification that assesses the environmental impacts of the product and its production process.