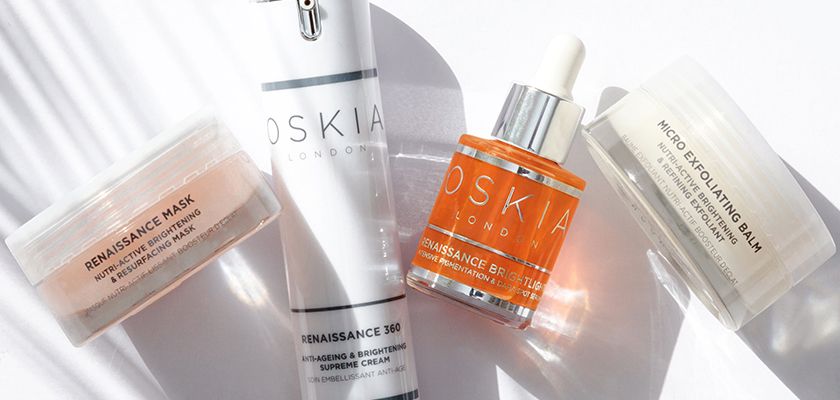 OSKIA
Supporting your skin since 2009, OSKIA is a nutri-cosmeceutical beauty brand that specialises in cellular skin nutrition. Founded by Georgie Cleeve, after witnessing first-hand the benefits of MSM, more commonly known as the 'Beauty Mineral, the brand's formulas fuse vitamins, minerals, proteins, amino acids and omegas to improve cellular activity and efficiency. The result? Happy, healthy and glowing skin.
DISCOVER OSKIA
Renowned for its utilisation of clinical bio-available, cellular nutrients and complex actives, OSKIA enhances radiant results through its skin care collection. With its formulas containing up to 40 clinically proven actives, the brand specialises in providing your cell with optimum nutrition through patented micro-encapsulation and liposome technology. Combating a variety of skin care concerns, OSKIA believes that everyone should experience a glow-from-within.

OSKIA'S FOUNDING STORY:

Georgie Cleeve launched OSKIA when the founder discovered first-hand the skin care benefits of MSM – a natural form of organic sulphur. First introduced to the beauty mineral by her father (who put MSM on the market over thirty years ago and pioneered its use as a joint supplement for racehorses), Georgie discovered it repaired the cartilage damage in her knees. But that's not all it did. MSM also had a great effect on her acne, eczema and generally poor skin too. It was from this moment the innovator knew she had to share this underestimated ingredient with the world. And thus, OSKIA was born...

OSKIA'S NUTRITIONAL SKIN CARE:

OSKIA's skin care and supplements are renowned for rebuilding skin health via its signature bio-available cellular nutrients. Fusing fermented vitamins, minerals, omegas, amino acids and glaucids with super-charged bio-actives such as prebiotics, plant stem cells and peptides, the brand's formulas target skin concerns and are suitable for al skin types. What's more, all OSKIA's creations are approved by a team of nutritionists, cosmetic scientists and skincare specialists