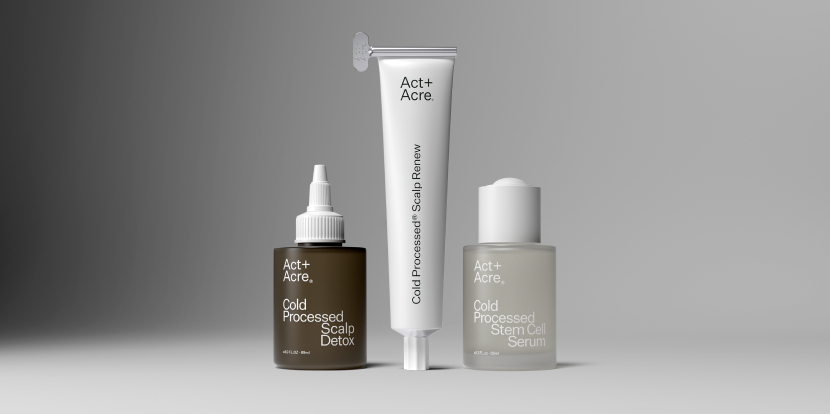 ACT+ACRE
Hair health fanatic and stylist to the stars Helen Reavey developed Act+Acre to help us understand the science behind long-lasting, jaw-dropping, luscious locks. From seed to scalp, Act+Acre's never-before-used Cold Processed system means they can harness a higher potency of their plant-powered goodness and abandon traditional heat-based production. Their quest is clear: science-backed skin care for your scalp, meaning reduced redness, fewer flakes, and noticeable nourishment.
DISCOVER ACT+ACRE
MEET THE FOUNDER
Having suffered with scalp issues her entire life, Helen Reavey felt incredibly strongly about treating the scalp with the same degree and attention as we treat our skin. With her background as a Trichologist and celebrity hairstylist, she partnered with her husband to create 'skin care for the scalp', and thus Act+Acre was born.
BESTSELLER
The Act+Acre product that irrefutably changed the hair care game, was undeniably the Cold Processed Scalp Renew. Hitting the refresh button on your tender scalp, this itch-preventing treatment rebalances sebum levels, removes excess build up and targets dandruff. Bursting with cooling and soothing peppermint extract, papaya extract and salicylic acid, this restorative scalp saviour has made a name for itself within the beauty sphere.
ACT+ACRE'S COLD PRESSED TECHNOLOGY
Most beauty brands use heat processing to build and create their beauty products, but Act+Acre were determined to find a better way for its ingredients to not lose their nutrient density. So, with that in mind the brand created the patented Cold Processed Method which uses hyperbaric chambers, ice cold water and 1,200 pounds of pressure to combine its plant-based ingredients. This method allows the original ingredients to remain fresh and highly potent, meaning Act+Acre's nutrient-rich formulas are easily absorbed into hair and the scalp for optimal health.