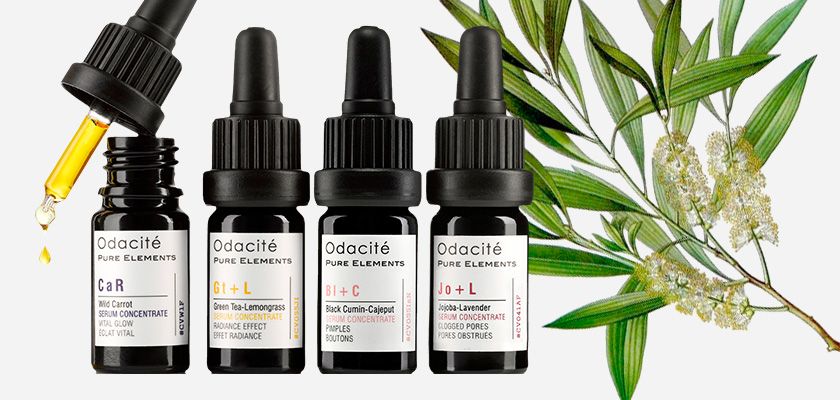 ODACITÉ
Aptly named after the French term for audacity, Odacité pushes beauty boundaries to uncover pure formulas that act as a solution for common skin concerns. Dreamt up by Valérie Gradury, the brand launched in 2009 with its plant-powered 'Serum Concentrates' collection. Today, it dreams up everything from Gua Sha tools to Black Mint cleaners that soothe, smooth and relax both your skin and self.
DISCOVER ODACITÉ
Rejuvenating, fortifying, protective and vitality-boosting, Odacité enables you to find your perfect formula for faultless skin and become your own at-home skin alchemist. With each product – from its best-selling Sheer Sunscreen to the All Embracing Serum – fuelled with skin-essential nutrients to correct the multitude of common skin concerns, the brand uses concentrated oils that work with cells to re-establish equilibrium while giving you a sensory experience.
THE FOUNDER'S STORY
In 2004, Valérie Gradury was diagnosed with breast cancer and felt an urgent need to reinvent her lifestyle and eliminate all toxins from her diet and environment. This quest for absolute purity inspired her to quit her job, return to school (where she trained as a health and wellness coach), and develop an intrinsic understanding of the healing properties of plants. Valérie began blending freshly made organic skin care – for herself and her clients – and as demand grew, she (thankfully) made her private blends accessible to all. Enter: Odacité.
ODACITÉ DNA
Odacité's French-California DNA inspires everything the brand does from the way it formulates its products to its sensory solutions. While its French roots motivates the highest standard of craftsmanship, refinement and luxury, the California spirit challenges beauty's status quo – keeping innovation and reinvention at the heart of all its products.
COMMITED TO CLEAN BEAUTY
Encouraging Clean Beauty, Odacité pushes boundaries by blending healing plants and clinical grade ingredients that undergo rigorous researching and thorough testing. All Odacité's products are powered by dermatologically tested formulas that marry purity and performance for the maximum results.
SENSORY EXPERIENCES
Odacité believes that our skin care regime is an intimate relationship between your skin and self. With that in mind, the brand ensures each product gives you a personal sensory experience. So, when applying Odacité's skin care formulas you feel the joy of everything from its texture to its aromas.