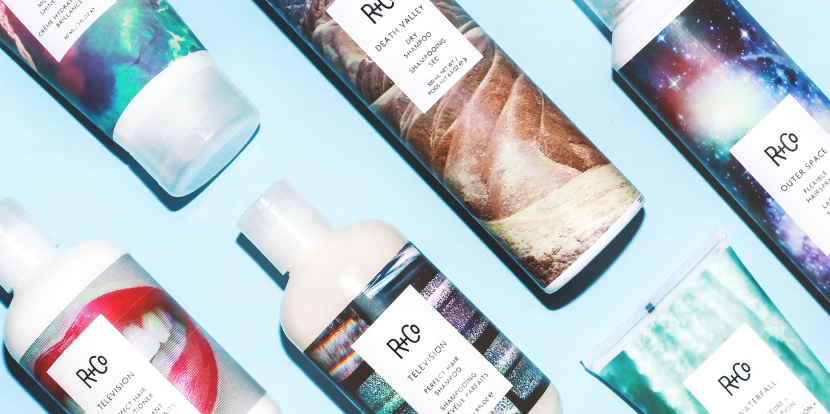 R+CO
Created by a trio of top session stylists, R+Co is renowned for its wide-ranging, treatment-orientated line of hair care heroes, which celebrate individuality, knowledge and artistry. Using natural ingredients (and free from parabens, sulphates, mineral oil and petrolatum), this selection is 100% vegan, cruelty-free, gluten-free and colour-safe. Plus, it's fragranced with five sublime signature scents that are primed to turn heads.

DISCOVER R+Co
Founded by three of the most esteemed hair gurus in the industry, R+Co started as a group of editorial and salon stylists who wanted to create an experience that came with hair care. With formulas that are simple and easy to use, R+CO's award-winning products are powered by ingredients that deliver real results and strengthen your scalp. What's more, with each hair hero colour-safe, heat and UV protective, gluten and sulphate-free, we guarantee you'll achieve salon worthy hair, at home.
R+Co BESTSELLERS
The perfect introduction to R+Co's renowned hair care is the ever-popular TELEVISION Perfect Hair Shampoo. Created for everyone and every hair type, this hard-working and multi-tasking product helps your tresses look beautiful, healthy...and perfect for your TV debut. Follow on with the TELEVISION Perfect Hair Conditioner to add body, shine, strength, softness and smoothness to dry, parched and damaged locks. Both hair heroes keep your scalp in mind with ingredients that detoxify the hair follicles and deliver intense moisture from root to tip.
MEET THE FOUNDERS
After working as creative director for Bumble and Bumble for over 25 years, Howard McLaren set his sights on creating a hair care brand that was all about expression and individuality. To help boost salon-worthy hair that consumers could emulate at home, he connected with famed men's stylist Tom Priano — who has shaped the hair of Timothe Chalamet, Brad Pitt and Harry Styles – and legendary stylist Garren to form R+Co. The idea being to create a collective of hair experts that collaborate to launch innovative hair care that work.