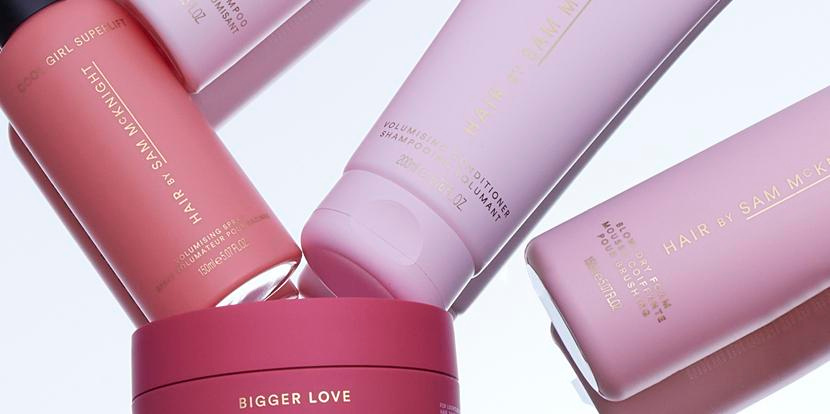 HAIR BY SAM MCKNIGHT
With a career spanning four decades and encompassing countless magazine covers, Hair by Sam McKnight condenses the stylist to the star's decades of experience into an effortless line of award-winning hair care and styling saviours. With an oh-so-chic take on hair care, Sam McKnight's hair products make his signature 'done' – yet ever so slightly dishevelled – look achievable in a matter of minutes.

DISCOVER HAIR BY SAM MCKNIGHT
MEET SAM MCKNIGHT
Renowned within the fashion industry — even The New York Times describes him as "one of the most important image makers of the late 20th and early 21st centuries" — Sam McKnight is the man behind hair styles we've all tried to emulate. Famed for creating Kate Moss's 'Cool Girl' aesthetic, Sam McKnight's passion to make everyone look and feel beautiful allows him to amass countless accolades and celebrity clientele. With over 200+ Vogue covers, as well as heading up campaigns for Chanel, Tom Ford, Fendi, Louis Vuitton, Dior and Armani, Sam McKnight truly is a hair master. Plus, he was even Princess Diana's personal hairdresser for over seven years too. If it's good enough for royalty...
AS EASY AS ONE, TWO, THREE
With Sam McKnight's ethos 'your hair can boost your mood and be your greatest accessory,' all Hair by Sam McKnight products are created to be tailored, hybrid formulas that are easy to use. Meticulously trialled at fashion shows and shoots, each product has been road tested to get the absolute best results on your hair. Powered by botanicals and scientific innovation, the brand's skin care-esque textures means all Hair by Sam McKnight products transform your tresses in quick, easy steps.

FINE FRAGRANCE FOR FINE HAIR CARE
Believing that hair is the ultimate mood booster, it was incredibly important to Sam McKnight that his products emulated his much-loved English garden. Working with renowned perfumier Lyn Harris from Perfumer H, they created a bespoke fragrance within all Hair by Sam McKnight's products, reminiscent of the scent of a garden after a rainstorm. With top notes of green leaf, herbs, water lily, clean pepper and frankincense layered over notes of cedar wood and juniper, this delicious fragrance lingers on your hair swish after swish.