With Spring/Summer catwalks awash with the usual 'warm weather' beauty looks – bronzed, bright lipped and beachy – the sixties trend (as seen at Marc Jacobs, Louis Vuitton, Dsquared and Jean Paul Gaultier) made an unexpected yet refreshing alternative. With beehives, pale pouts and big lashes a one-way ticket to babe station (just google 'sixties pin up'), take your make up inspiration from the decade that delivered us Brigitte Bardot, Diana Rigg, Mia Farrow and Twiggy to ensure you look smokin' as mercury rises. Whether you're a sex kitten or exude elfin elegance, just pick your sixties alter ego and experiment. By playing with contemporary colours and textures, it's easy to make the look thoroughly modern; think sixties-esque not fancy dress.Elegant Elfin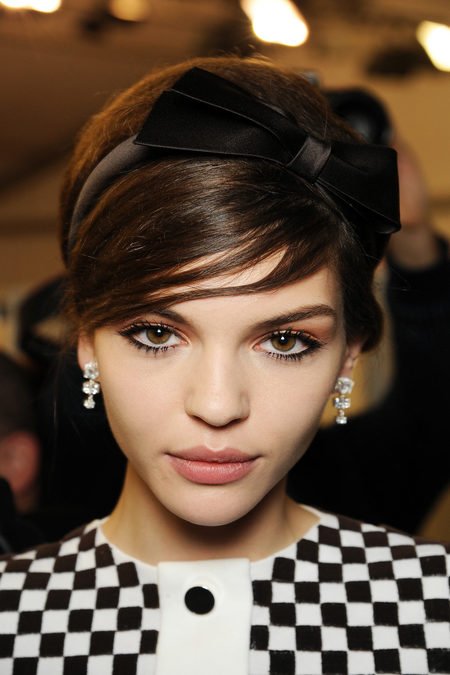 When creating dramatic eye make up looks, apply liner and mascara before your base, so you can neaten any wiggles or smudges without having to re-do your entire face. (I know! Makes so much sense yet only took ten plus years of make up application to discover…)
Line the inner rims (waterline) of your lower lids with 3 Custom Color's Clarifying Pencil – this makes eyes look instantly wider and brighter – then wash the pale peach-pink shadow (part of their Bright Eyed & Bushy Tailed Duo) over the eyelid to disguise any shadows and lend your peepers a flattering, doe-like prettiness. >> For a modern twist, define the outer corners and the socket with a rust toned shadow. Try Sunday's Riley's Prismasilk Eye Colours in Fall Leaves, Lady Godiva and Sanders << Using Japonesque's Pro Eye Detailer Brush (Small), line the eyes with FACE Stockholm's Gel Eyeliner in Black >> Apply liner as near to the lashes as possible to give the illusion of full, voluminous fringes; then finish your eyes with two coats of Stila Cosmetics' Forever Your Curl Mascara << Use a cotton bud dipped in make-up remover, to neaten smudges and remove any shadow that's migrated onto cheekbones, before perfecting skin with a semi-matte foundation – FACE Stockholm's Picture Perfect Foundation can be applied with fingertips then blended with a brush (try Japonesque's dual textured HD #120 Foundation) to disguise any imperfections and lend skin a flawless, china doll finish. Amplify your eyebrows with Anastasia Beverly Hills' Brow Genius then complete the look with a slick of Sunday Riley's Modern Lip Colour in Bare Honey. Beautiful Bombshell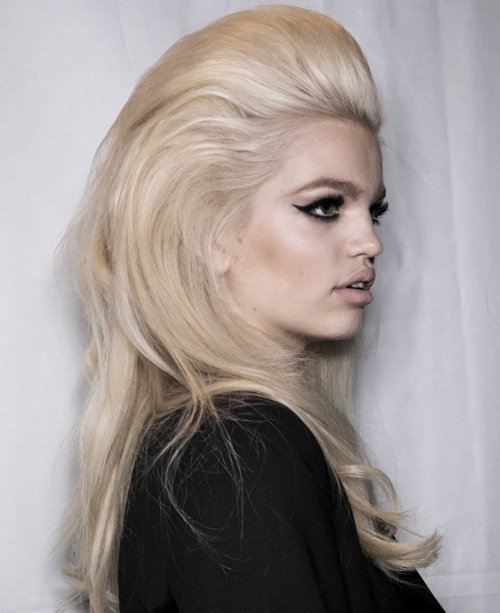 To achieve the ultra-black winged eye, you need a heavyweight liner that won't migrate and leave you looking like a hot mess. Anastasia Beverly Hills' Covet Waterproof Eyeliner is foolproof and steadfast – just the ticket for days when you feel like a sexy sixties kick-ass panda (ie: most days).
Line both inner and outer, upper and lower lids – gently stretch the upper lid by pulling the outer corner towards your temple, to create a 'firmer' canvas on which to create your make up masterpiece.
Glue on some Eylure Naturalite Strip Lashes – allow a few minutes to adhere – then finish with lashing of d.j.v. Beautenizer's Volume Lash.
Skin should be pristine but luminous. Use a Beautyblender to dapple Sunday Riley's Liquid Light Colour Correcting Luminous HD Foundation – concentrating on any uneven patches or blemishes – then lend cheeks a subtle flush with FACE Stockholm's Crème Blush in Tokyo.
>> Apply blusher with Japonesque's Pro Stippling Brush to achieve a lit-from-within effect <<
Mask lips with a little extra foundation – they should virtually disappear, in order to complement the high impact eye – then brush and set brows with Anastasia Beverly's Hills Tinted Brow Gel.
Hair has got to be HUGE, so spritz Tela's Boost, Volumising Styling Mist through damp hair, then tip your head upside down and blast with the hair dryer. Once dry, divide hair into sections and backcomb backcomb backcomb, focussing on the crown before dousing your whole head with Elnett Hairspray Extra Strength.
Put on your dancing shoes… and don't stand near any open flames.