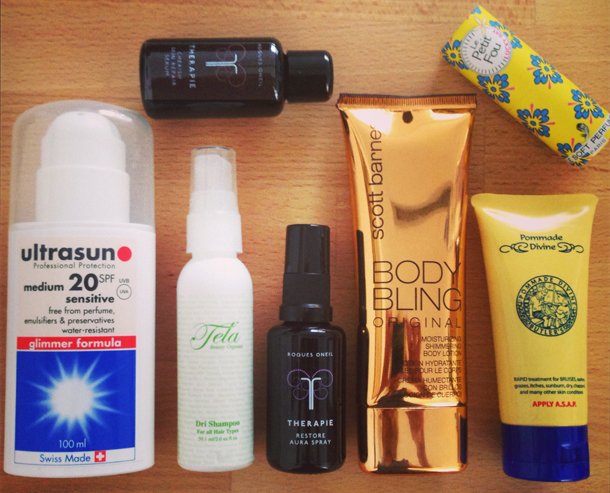 Even if just to get away from constant baby chatter, I am very much looking forward to this weekend at Secret Garden Party. While planning the contents of my rucksack I thought I'd take you through my key beauty items for the fiesta.
Ultrasun is perfect for all-day parties because it doesn't come off, no matter how long you dance for in a sweaty tent or how many lakes you jump in. At the end of a day in the sun I find Therapie's Cherish Serum the best way to nourish and calm my skin, it also works as a massage oil, and the mini Aura spray that comes with their Discovery Kit is a brilliant facial spray to calm you when you are not far away enough from the madding crowds. Le Soft Perfume (top right) won't break if someone accidentally dances on your bag and these solid perfume sticks do a great job of disguising a slightly less virulent showering schedule than normal.
Pommade Divine balm is an essential wherever you are and whatever you are doing, especially if there is a potential you might fall over doing it. It's a joy on dry lips too. If you wear little else Body Bling is the way to give yourself the actual J-Lo glow, you know the one that makes you look like you earn a million dollars!
The last essential is a dry shampoo from the brilliant Tela Hair Organics. Unlike every other dry shampoo on the market, this one comes out wet and doesn't rely on corn starch to soak up the grease (I find the starch always dries a bit to look like dandruff). It refreshes and texturises your hair, makes it smell glorious and look like the great washed!
Now to find a black cat outfit, any suggestions??