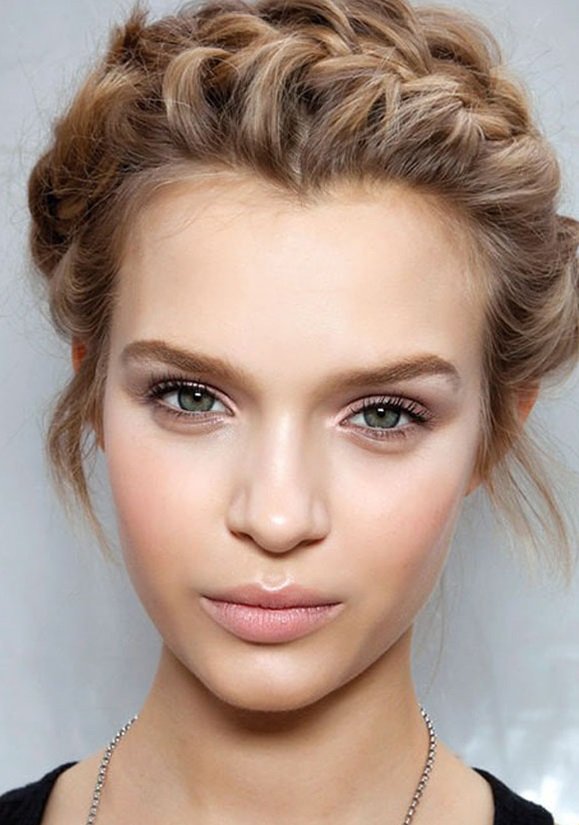 MAKING THE BRAID >>
There are few styles more angelic than braided, Grecian-esque tresses and when the sun shines, there are also few styles more practical. A sweaty scalp coupled with greasy palms, can quickly contribute to dirty locks – so plaiting your hair and pinning it out of your face not only keeps your neck cool, but also prolongs the cleanliness of your hair – brilliant if you're destined for a festival. I'm hopeless at French plaits (sorry Mummy) but a similar effect to that shown right, can be achieved this easy cheats way…

Liberally spritz almost dry hair with a salt spray such as Sachajuan's Ocean Mist – which minimises slip and helps hold the style. Then part hair from forehead to nape, straight down the middle. Personally, I don't think it matters if your parting is a bit wonky but if you're a perfectionist, you might need a friend to supervise the back-of-the-head bit. Once your hair is in two sections, start plaiting (the normal way), starting close to the scalp (but not so close that it tugs – remember the aim is to maintain this look for a long weekend at Wilderness). Finish your two pigtails with a snag-free elastic (clear ideally), then grip each plait to rough it up a bit – I like to effectively backcomb the whole hank with hands – the flyaways soften the effect and grant an ethereal, wood-nymph-esque prettiness
Now for the tricky bit… take each plait and position it across the top of your head, a little bit back from the hairline. Start pinning the first pigtail – you will need a whole army of kirby grips – and once it's firm enough to stay put with no hands, take the other pigtail and position it so that the ends of each plait are disguised. This can be a bit fiddly, but it's worth taking time to hide the 'joins' – it'll look like you're wearing a halo of hair.
Finish with Sachajuan's Medium Hold Hairspray – which holds without any 'crispiness' – et voila!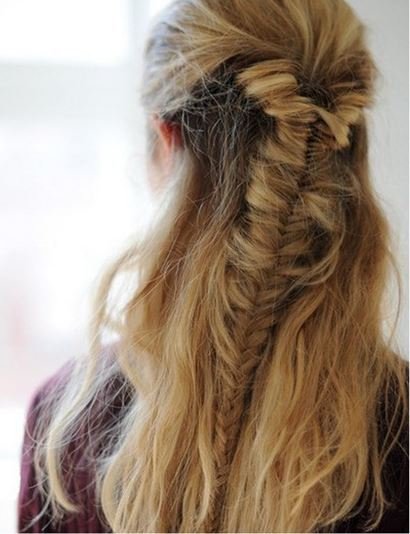 << FISH FOR A COMPLIMENT
The fishtail braid has been enjoying a revival and it's easy to understand why. It's chic in a disheveled way – like you've just got back from a trip down the rabbit hole.
Although it looks mind-boggling-ly complicated, it's actually remarkable easy to recreate: here's how…
This works best with slightly dirty hair but if yours is too clean (you clever thing you), spray the lengths with dry shampoo to add texture (Batiste Dry Shampoo will do the trick).
As you did for the crown (above), divide your hair into two equal sections by parting it straight down the middle. Use a comb if you want a slick finish, or your fingers if you're feeling all Hunger Games.

Take a thin strand from the outside of the left section, and pull this over the top, into the middle and grasp it under the right section, then repeat in reverse – take a thin strand from the outside of the right section, and weave it under the left section.
TIP >> Try to keep strands roughly the same thickness, or your braid will look uneven. The thinner the strands the more intricate (and time consuming) the result – but the effect will be worth the extra effort.
If you're a beginner, practice by pulling the strands tighter – this makes it easier to learn the method without confusion. It's also a good idea to start with a side plait so you can see what you're doing, and quickly spot any mistakes.
Continue weaving over and under until you reach the end, then secure all but a tiny section with a band – this extra bit is left free to disguise the bobble. Simply wind it over the band and tuck into the underside of the elastic… and wait for the compliments to come swimming.