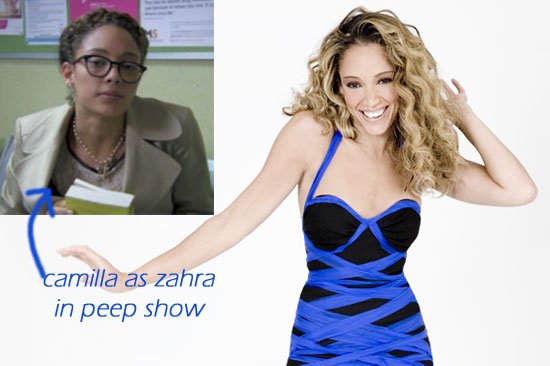 You might recognise Camilla Beeput from her role in Push (the show that also starred Cult Beauty!) This rising star is currently appearing on our TVs each week in the Bafta-winning comedy, Peep Show. Here she gives us an insight into what it was like landing the biggest role of her career to date, and her first day on set…
"As my car pulled up to set on the first day of filming I was a bit bleary eyed – it was 6am and I had been filming Push for Channel 5 until midnight the night before – but the rush of excitement, fear and expectation overcame my tiredness, for I was officially joining the cast of one of the most critically acclaimed British comedy series of my generation: Peep Show. Knowing that I was about to grace the same screen as Mitchell and Webb in the biggest role of my acting career to date, as Robert Webb's new love interest Zahra, and that my imminent contribution would be immortalised in DVD boxed sets, I was almost breathless. For an instant it took me back to the gruelling audition process, the many other hopefuls I had beaten to get this role, the hours I had spent perfecting my character, and the final audition when it was down to the wire and I had to act my scenes with Robert Webb for the first and possibly the last time. It was during that final audition that it had seemed almost within my grasp, as the chemistry between Rob and I snapped and crackled and everything I'd worked on seemed to fit. And then having my customary 'after audition coffee' in Starbucks with my boyfriend, also an actor, where I picked apart everything that had happened in the audition and simultaneously tried to forget the whole thing so as to avoid probable disappointment. But then catching a glimpse of someone who could have been my competition walking past on the other side of the street and then falling back into over-analysing my every action again – such are the joys of auditioning.
Before getting in front of the camera there were a few more tasks I had to undertake; costume fittings, rehearsals, and the cast read through. This is another gruelling event that actors must often endure before they start a new job. You meet everyone at once in the same room – writers, executives, make up, wardrobe, crew, producers and countless others – not to mention the other actors and the stars of the show, in this case David Mitchell and Robert Webb, for the second time. It is a daunting experience in which you struggle to read your lines – and any others they've decided to give you for the purpose of hearing everything aloud – to the best of your ability around a table, feeling paranoid, judged and wondering whether they've realised that they've actually cast the wrong person! It was Isy Suttie, who plays Dobby, that put me at ease during a loo break telling me that I was hilarious and very natural, "phew" I thought. But then my paranoia bit back "but is she just being extremely kind about a terribly embarrassing performance?" I thought, "I would!" But later Sam Baine and Jesse Armstrong, the writers of Peep Show, both said that they were very happy that I was joining the cast and, for a moment, I felt relief.
The costume fittings for Peep Show were great fun. Helen Woolfenden, the amazingly stylish wardrobe mistress, with a personal shoe collection to die for (I'm literally chomping at the bit for her to have a jumble sale) and an insider at the Alexander McQueen sample sale, which she has promised to take me to, was set up in the glamorous Personal Shopping suites of Selfridges Oxford Street with her lovely assistant Ally (whom coincidentally had worked with me on my first television gig). We sipped Pellegrino and discussed fashion while going through Zarah's costume possibilities. I once heard Helen Mirren say that she often works from the feet up, finding her character's shoes first. Well, with Zahra it was a case of if the specs fit! Zarah's costume is a mesh of quirky student, Hepburn-beatnik, and Parisian-chic tied together with a pair of thickly rimmed specs – I affectionately sum up her style as Geek Chic.
So like I said, I was a bit bleary eyed on my first day, it was the first time in my life that I had two jobs on the go. Push, the docu-style series for Channel 5 about fashionistas in East London. That used guerrilla-style shooting tactics and operated entirely from a seven-seat white van – we'd rock up to a fabulous location in Covent Garden or London Fashion Week for example, set up, change on the bus and before the passers by knew what was happening, the scene would be in the can and we'd be off to our next location. This was juxtaposed with the well oiled, seven series-deep machine of Peep Show, which threw in my own car service – what a luxury!" Read more from Camilla next week…
BEAUTY SPOT: How does on-screen make-up affect your skin?
"Peep Show is shot on HD, which shows everything, so the make up was very light and natural. My make up artist was lovely and was always tuned in to my skin needs. I have to be careful because I have sensitive skin, I'm fastidious about cleansing my skin after wearing make up and making sure the brushes used on my skin are clean too – I learned the hard way on set a few years ago when I was too shy to saying anything and my eyes puffed up and stayed that way for weeks!"
Peep Show is on Channel 4 on Fridays at 9pm
Photographer: Sean Pines – seanpinesphotography.co.uk