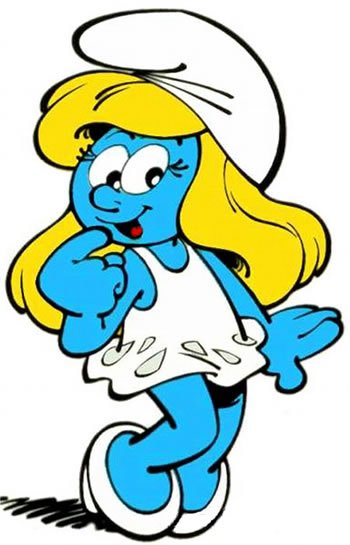 As a little girl Smurfette was a complete icon to me, beautiful, stylish, girly and adored by hundreds of male Smurfs. Looking back with adult eyes it is slightly strange that there was only one female in the clan. If you read further the undertones become vaguely misogynistic. Smurfette was created out of clay by the Smurf's arch enemy Gargamel, in order to spread discord and jealously in their Village. Themes of Adam, Eve, rib bones and apple trees jump to mind…
But if you dissect any cartoon it's possible to find something to offend our delicate modern-day sensibilities, especially ones created in the 60's.
Hollywood has revamped the franchise, releasing a 3D movie later this month with another girly girl, Katy Perry, as her voice. It'll be interesting to see how today's need for airtight political correctness renders these origins in the new script.
I'm excited to see that blue is back for another generation and think we'll being seeing a lot more of this iconic image. alexia inge