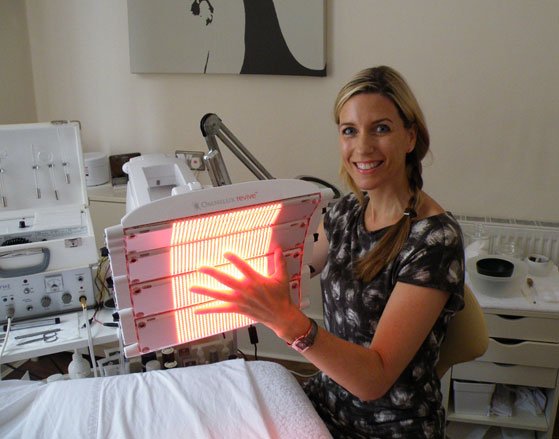 I have had a fair few facials in my time, but in truth, after the initial glowy relaxed feeling, the effects never last very long. But the facial I had yesterday was quite different. I tried the Skinesis High Definition Facial at Cult Beauty expert Sarah Chapman's South Kensington clinic and it was a revelation. Sarah's legendary facials are rated by high society, royalty, beauty editors and celebs alike – she counts Naomi Watts, Queen Rania of Jordan and Jemma Kidd among her many satisfied customers.
My therapist, Tarryn, was a font of wisdom on all things skin (and advised me on my shoulder pain too) so I left feeling equipped with the knowledge to look after my skin more diligently as well as feeling that the treatment had made a significant improvement.
My skin has rosacea and some broken veins and the overall redness really bothers me. Tarryn explained that I should be using a broad spectrum sunscreen every day (she didn't let me leave until I'd been smothered in Factor 50) and taking off my make-up with a gentle creamy or oil-based cleanser. I should avoid AHAs, heat, exfoliating scrubs and drying masks, and I should dose myself up with vitamins, particularly Omegas 3, 6 and 9 which are found in oily fish. They have anti inflammatory properties and will help plump up skin, balance hormones and regulate sugar levels.
And so onto the treatment:
The High Definition facial is ideal if you have a big event coming up (and with London Fashion Week looming, this is me). It's designed to immediately brighten tired skin and give you the sort of glow that will look amazing even under a harsh photographer's flash. The treatment combines good old fashioned botanical active ingredients with the high performance whizzery of the Omnilux Revive LED Therapy machine and a mild lactic peel.
After cleansing my grubby face thoroughly, Tarryn embarked upon the first step of the facial – a peel using lactic acid. It's not really a full-on peel (I had panicky visions of Samantha in Sex and the City and her red blistered face) – it's a gentle, mini version. It tingled, but was over in minutes. This is designed to brighten, exfoliate and hydrate, as well as encouraging the skin to 'heal' itself faster so you get more new skin.
The mini-peel is followed by the application of serums and masks which are packed with hyaluronic acid (which sounds scary, but is incredibly good for feeding the skin), peptides, antioxidants, vitamins and proteoglycans to boost results.
Then comes the science bit: my eyes were covered with pads and the Omnilux Revive machine was placed over my face and switched on. What followed felt a little like staring directly into the sun, but after a few seconds I got used to it and it's not remotely harmful. The benefits of LED light therapy are widely acknowledged by modern medicine – the light is absorbed through cell receptors to increase cell energy and collagen production.
A final slathering of colostrum and the distinctive fast tapping, pinching and knuckling that is the trademark of a Sarah Chapman facial massage and I was done. Glowy and relaxed, but much more than that – with healthy-looking skin and the know-how to keep it going.
The Skinesis High Definition Facial costs £130 for 1 hour. Skinesis Clinic, 106 Draycott Avenue, London SW3 3AE, United Kingdom 020 7589 9585 www.sarahchapman.net sarah chapman, facial,
phoebe frangoul