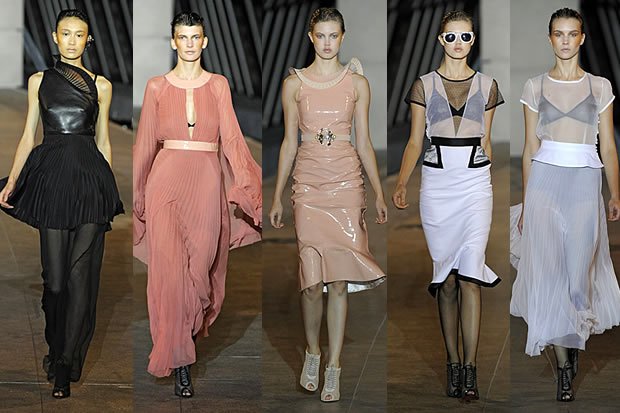 After Williamson's show, I jumped on the fashion bus to be taken to Waterloo Station for Richard Nicoll's show. Whilst waiting for it to fill up, a helicopter came over our heads and landed 20 metres away, whooping up a massive dust storm much to the demise of a bevy of stylists, buyers and journalists who all ended up looking like they'd survived a desert storm.
I arrived just as the show was starting on the old Eurostar platform. A predominantly black and white collection, Richard's main focus was working the pleated chiffon. He had dresses with sheer ankle length skirts and short pleated minis on top. More bustiers (wahooo), bomber jackets, gorgeous hour-glass patent pvc dresses with sculpted chiffon stiffened into subtle choir boy curves around the neck and pre-historic mini wings on the back, curves were accentuated with undulating skiff peplum lines. The show had a provocative sporty feel to it, it was strong, elegant, futuristic, sexy and I would happily have it all in my wardrobe, please.
The make up was in neutral tones, faces were kept pale down the middle with a warm, orangey bronze on the lower cheeks lifting up to the temples and hair line. No mascara and all about the cheeks…again. A brown/peachy gloss was applied to the lips.
The hair was pulled back into a greasy ponytail with a looser slightly higher top. olivia inge