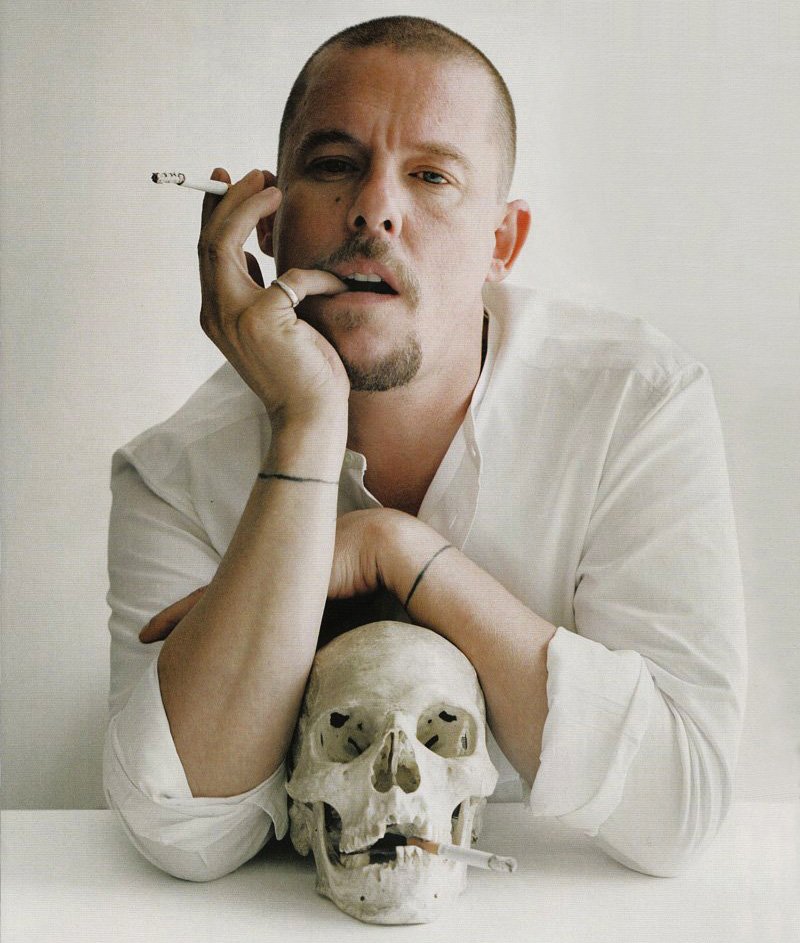 Mcqueen is dead. Long live…..who could ever fill the space? Like his dear friend Izzy Blow, he leaves behind a void that is impossible to fill.
As a designer he masterminded catwalk shows that transported all those lucky enough to be privy to them, into his dreams, nightmares and vivid imagination. The first time I met him was when I was 16 at his modest studio in Hoxton back in '96. He was almost as shy as I, one of his many endearing qualities.
His work was everything to him. It was almost like an exorcism, flushing out the images in his head, putting them on paper, transferring them to clothes.
For that show, he had us walking down a volcanic catwalk, dodging low, swinging lights, wearing red contact lenses with tunnel vision. He made his models really work and perform for their money. It felt magical to be a part of his shows.
Another show that stands out in my mind was when he was at Givenchy. We zig-zagged our way across the back of the catwalk, the audience could see our head and shoulders as you would normally, but the rest of our bodies were as an x-ray. This lead to the main catwalk which echoed MJ's Billie Jean video – every square lit up as you walked on it, and said song bellowed out as I strove down. The feeling you get as you strut is close to God-like. Especially when the clothes are as intricate and clever as Mcqueen's.
My favorite show was during the time I obliged with the role of being Lee's "fit-girl". I was, basically, his pin cushion. After he'd drawn his designs, they were sent off to the factory in Italy and would come back as a toile in a cheap material called caliko. Lee (usually late) would then set to work manipulating the garment into his vision. Lee and his design team were all meant to be taking Italian lessons in order to bridge the linguistic gap. Lee's Italian got as far as "poco".
This show, the first with the high-tech screens, was a waterfall of color. We were pirates from the past and future, exquisite multi-colored feather print dresses, sexy distressed chiffon and killer pirate boots (Lee you promised me some of those….) made their debuts to a standing ovation. I had a black catsuit with a techi pattern of sequins and a disc to hold in my mouth. This, made by Sean Leane, was to look like someone had thrown a metal shot-put at me and I had caught it in my mouth. Madness!!!!
Just before the show was about to begin, Lee took 10 minutes of his time to talk to my mother about me. Can you imagine?? The climax of 6 months hard grafting is about to happen and he spends the time waxing lyrical about a model to her mother.
This was the show that kicked off the fashion for the skull and cross-bone scarves.
Lee was like a Peter Pan figure, he had a schoolboy giggle and mischievous demeanor. He loved hearing about our lives, took the piss out of me for going to festivals (this was before EVERYONE went) and told me that the only girl he ever snogged was a ginger. What impeccable taste.
He was so incredibly focused when working, although I did end up with one or two "designer" pin pricks. I had to stand in front of a huge mirror all day while he worked around me. It was an honor to be in pole position while this creative genius plotted, cut, marker penned, sewed, gathered, tore, pinned and created his beautiful world.
A man after my own heart, he was happiest diving in the Pacific. That sense of being without gravity and inconsequential to the fish, free from the tyranny of money, business, fame and capitalism. I hope Lee is happy now that he can float till his heart is content in the big ocean in the sky. I will miss him so very much and wish, from now on, that I could be seen only in Mcqueen, for in my eyes he is the King. Love you Lee. olivia inge